The Attendance Login Bonus or the Daily Reward System is a 25-day daily LogIn Bonus system that gifts you rewards for logging in each day. The rewards consist of jewels, Infinite+ and Mystic+ monster cores from a randomly selected monster in that grade, and eggs (Mysterious, Legend and Celestial Monster Eggs). VIP and VVIP affect the reward quantity and must be met in order to obtain the bonuses; VIP doubles the rewards while VVIP quintuples the rewards. Only the second column is unaffected by VIP and VVIP.
VIP reward benefits are permanent once you obtain the specific VIP level, which ranges from 1 to 20. The VVIP reward benefits depend on how much jewels you buy to get the benefits. They are obtained by purchasing in-game benefits such as jewel and specialty packages.
The picture below shows how the login rewards table looks like.
The login calender does not reset at the start of each month, but rather the day after you have claimed your 25th day prize. The "Next Login Reward" bonus timer resets at 12AM KST for the Korea and Asia servers, and 5PM PST for the Global 1 and 2 servers.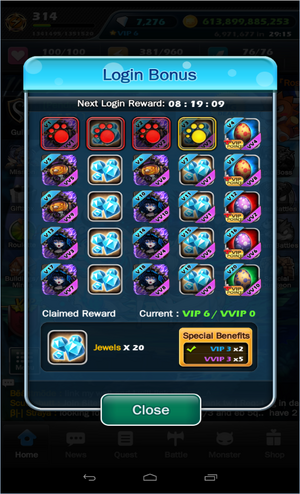 Core Rewards alternate between Monster Elements every month.
Ad blocker interference detected!
Wikia is a free-to-use site that makes money from advertising. We have a modified experience for viewers using ad blockers

Wikia is not accessible if you've made further modifications. Remove the custom ad blocker rule(s) and the page will load as expected.